Originally posted on Style News - StyleWatch - People.com: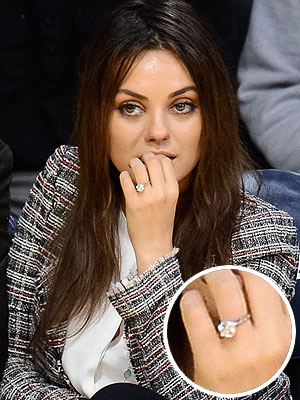 Noel Vasquez/GC Images
Ashton Kutcher and Mila Kunis were at the top of our "2014 celebrity engagements" list (and just a favorite celeb couple in general) here at PEOPLE StyleWatch. That's why we've been antsy for ring details ever since the first blurry shots of Kunis's newly adorned left hand were taken.
Luckily we didn't have to wait too long — she was spotted showing her new sparkler off at a Lakers game Tuesday, and a friend is giving us the scoop on the new bauble.
RELATED: Even more stunning celebrity sparklers!
"It's a simple band with a round diamond," says the friend of the couple. "No baguettes, no insets. It's not ostentatious, like a Kim Kardashian ring. She doesn't need a security team with her to wear it. It's a lot like her and Ashton."
The low-key duo have been dating since 2012, and Kutcher put the classy and…
View original 50 more words